Through words and photographs, the beautiful "Oklahoma Courthouse Legends" book tells stories about Oklahoma's 77 County and 4 Federal Courthouses. Author Kent F. Frates and noted photographer David G. Fitzgerald have captured Oklahoma's turbulent history with legends involving famous trials, infamous outlaws, courageous lawmen, notable lawyers and judges, and other historical characters and events. A portion of the proceeds from website purchases at the above link go to help support Oklahoma Bar Foundation grant programs.
[member-separator]
---
By any measure, the cases in this book are notorious. Oklahoma has had more than its share of sensational legal battles, but for the first time in one volume, Oklahoma attorney/historian Kent Frates reveals the facts behind six cases that helped shape the history of the state – and the nation.  From bloody murders, to political scandal, to a horrific act of domestic terrorism, see history through the stories of evil criminals, brave victims, tenacious law enforcement professionals, wily defense lawyers and determined prosecutors.
Oklahoma's Most Notorious Cases is now available through the Oklahoma Bar Foundation at the Oklahoma Bar Center, 1901 N. Lincoln Blvd., Suite 204, Oklahoma City 73105.  A portion of the proceeds goes towards grant programs on books sold by OBF.
[member-separator]
---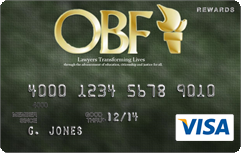 A SMALL WAY TO MAKE A BIG DIFFERENCE:
The Oklahoma Bar Foundation and Oklahoma Bar Association jointly announce a new credit card program exclusively for our membership.
The new program through UMB Bank, NA offers a competitive rate with other benefits you will want to utilize.  And – when you use your OBF Card, UMB Bank will pay royalties to the Bar Foundation, enabling the Foundation to provide important charitable grant funding for:  free legal assistance to the poor and elderly; safe haven for the abused; protection and legal assistance to children; public law-related education programs; other activities that improve the quality of justice for all Oklahomans.  Many of the funded programs utilize pro bono legal services that further compound OBF grant dollars.
Click the card to find out more about the Oklahoma Bar Foundation Visa® Platinum Rewards card and apply online.
Join hands to help those in need while earning points.